When you are ready to seek help for your alcohol use disorder, you will be faced with the decision of which type of treatment to choose. Many people hoping to find recovery from their alcoholism seek help from an inpatient (residential) treatment center, while others attend outpatient rehab, and still others do a combination of the two.
Understanding Inpatient Treatment
Inpatient rehab is an immersive alcohol addiction recovery experience. During inpatient treatment, patients reside at the treatment center for the duration of their treatment for addiction, usually in 30, 60 or 90-day periods, although some programs are different and your length of stay is usually dependent on what your insurance will approve.
When you commence inpatient treatment, you may first start with a detox program, where doctors and nurses will use medications to safely get you off whatever substances you have been putting in your body. Detoxing from opiates is extremely uncomfortable, and detoxing from alcohol can be fatal, so it is important not to skip this step. If you have been taking sleeping medications, amphetamines, or anything else in an effort to stabilize yourself, the medical detox team will deal with this as well. Your detox may occur in a standalone facility affiliated with the treatment center, or in a separate location onsite.
Once your detox period is complete, you will be moved to the inpatient portion of your treatment. Here, you will get a room, either private or with a roommate depending upon your facility, and you will receive round-the-clock care in the form of scheduled days of treatment groups, therapy, exercise, scheduled meals, chores and classes on things like relapse prevention, family issues and much more.
Your nights are scheduled too, although these are somewhat looser. Sometimes you will get to leave the facility to attend an outside 12-step meeting, other times there are meetings onsite. As you near the end of your inpatient treatment, you may gain more access to the 'outside world' to prepare you for leaving treatment. You will develop a plan with your counselors on how you will handle exiting rehab, and you will work with them to maximize your success once you "graduate."
The Benefits of Inpatient Treatment
Inpatient treatment has many benefits, among them higher success rates, a controlled and safe environment free from drugs and alcohol, intensive support from therapists, counselors and groups, and access to medical staff to support you physically and emotionally.
When people are making the decision to attend inpatient rehab, they are usually concerned about three things:
Choosing to go to inpatient treatment is not a light decision, but it is important that you realize how serious your alcohol addiction is up to this point.
Time off from work or school
No one wants to miss work or school, but the important thing is that you get and remain healthy. A short-term break from either when it means long-term success seems small when you put it in perspective. Since alcohol use disorder is in the DSM-V, it is a protected disability under the Americans with Disabilities Act, and you are therefore entitled to a confidential medical leave without punishment or retaliation from work and school.
Speak to your benefits department at work, or your ADA team at school, and they can help you access the help you need without having to worry about privacy or what is going to happen to your job and school while you are away. Then, you can simply focus on your recovery, and return to work or school as the best version of yourself.
Cost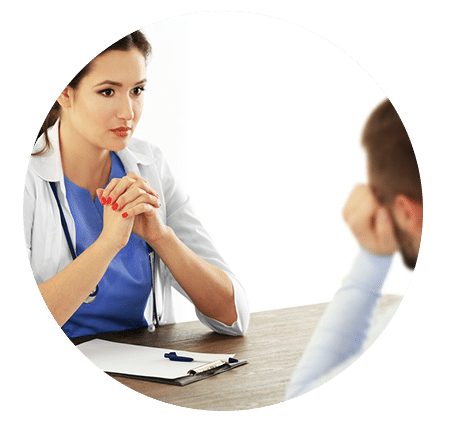 Inpatient treatment can certainly be expensive, and cost is a big concern for people, particularly if they have a large deductible or their insurance won't cover treatment. However, there are many ways to subsidize the cost, whether it be through family or friends, a loan, or even a scholarship from a treatment center. Do not let money stop you from getting treatment. Where there is a will, there is a way, and there are lots of options for people without insurance, or those who have exhausted insurance as an option, if they put forth the effort and are willing.
If you are lucky enough to use insurance to cover treatment for alcohol addiction, then your treatment center can do all of the heavy lifting for you. They will call your insurance company and set up your benefits, and they will recertify you as you attend and progress in treatment, so you can just focus on your health.
Time away from family
For many people, this is the hardest part of seeking inpatient treatment. They are worried about being away from their kids or their spouse, and understandably so. However, it is important to remember that addiction is a family disease, and your family has been affected by having you around, too.
Taking time for yourself to get better is one of the best gifts you can give your family. Think about all of the times you missed a game, or missed a birthday party, or the times you were physically there but not really present in your family's life due to your addiction. Taking time away, getting treatment and being able to show up for your family in a whole new way is a very worthy reason to attend inpatient treatment.
The family also needs treatment, and some inpatient facilities provide family visitation and family therapy, so they can heal and recover, too.
Typical inpatient treatment schedule
| | |
| --- | --- |
| 7:00 | Wake up, make bed |
| 7:30 | Morning meditation |
| 8:00 | Breakfast |
| 9:00 | Cognitive Behavioral Therapy |
| 10:00 | Relapse Prevention |
| 11:00 | Exercise |
| 12:00 | Lunch |
| 1:00 | 1:1 Therapy |
| 2:00 | Process Groups |
| 3:00 | Relationships in Recovery |
| 4:00 | Equine Therapy/ Yoga |
| 5:00 | Rest Time |
| 6:00 | Dinner |
| 7:00 | Leave for meeting |
| 8:00 | Outside 12-step meeting |
| 9:00 | Return to center |
| 10:00 | Lights out |
What to look for in inpatient rehab
When choosing an alcohol treatment center, you need to be educated and ask questions of the centers you are considering.
What is their education and certification level? Addiction treatment centers can get certifications, which means they have gone through a more rigorous process when it comes to their treatment model. The individual therapists and counselors can also have certifications. What is the highest level of certification they possess? Do they have CADC, CADC II, MSW, PA, MD, NCAC I, NCAC II, etc.?
Do they treat both the physical components of alcohol addiction as well as the psychological aspects?
Do they offer a wide continuum of care? Research has shown that the most successful treatment programs offer long-term support. Do they offer detox, inpatient, outpatient and aftercare?
How long does inpatient treatment last?
According to the National Institute on Drug Abuse (NIDA), treatment outcomes improve with longer periods of care, ideally 90 days. This does not all need to be completed in an inpatient program; however, you can achieve this by attending a structured outpatient program upon completion of your inpatient program, or as your primary therapeutic outlet, if no inpatient treatment is possible.
Other inpatient options can last anywhere from 28 to 90 days, with the 90-day treatment reserved for those who will really benefit from three months of intensive care, usually chronically addicted or people who relapse often and need something more intense.
Remember that an effective alcohol rehabilitation program involves a combination of outpatient and inpatient treatment, aftercare, and follow-up counseling.
Getting help
It is a big decision to decide to seek help for a problem with alcohol, and you are not alone. You can get help through a variety of different channels, most of which are explained on this site.