Veterans make the ultimate sacrifice. In order to protect the rights and freedoms of all Americans, veterans go to some of the harshest places and worst conflicts on earth. They come home to a hero's welcome, but that does not mean the scars and stresses of their service disappear. Veterans face lots of obstacles when readjusting to civilian life, and alcohol is often a crutch to cope.
There are over 20 million veterans in the US according to the Department of Veterans Affairs. Most of these veterans have a healthy relationship with alcohol, but some of them do not. And, as a result of their service, their alcohol abuse can be particularly dangerous and destructive.
Veterans deserve respect and gratitude. They also deserve support and sympathy. The realities of military service are hard to reconcile, and some veterans find escape in a bottle. Thankfully, there is hope for any veteran struggling with alcohol use disorder (AUD) and hope for their friends and family as well.
PTSD and Vets
Post-Traumatic Stress Disorder (PTSD) is nothing new, but it's only beginning to be understood. Soldiers from every era in history have had to grapple with mental scars as a result of their experiences in war. But it was only recently that we began to understand how deep these scars run and how important it is for anyone with PTSD to seek out therapy and treatment.
Anyone can suffer from living through a traumatic event. In fact, as much as 8% of the US civilian population struggles with this condition. Due to the unique experiences of veterans, however, the rates of PTSD are much higher. For veterans of the Operations Iraqi Freedom (OIF) and Enduring Freedom (OEF) the rate is as high as 20%. Over their lifetime, up to 30% of Vietnam War veterans experience PTSD.
The violence and danger of war are one cause of PTSD, but not all veterans who suffer from this condition had a traumatic battlefield experience. For example, PTSD can be exacerbated by other mental health issues, or be related to deeply-held personal and political beliefs. PTSD in women veterans may be related to sexual assault. The point is that the popular notion of veterans suffering from "shell shock" is entirely incorrect. PTSD is a complex condition that has as many causes as it has symptoms.
Alcohol Abuse and PTSD
It makes sense that stressful events trigger stressful feelings. Anyone who suffers through a trauma is likely to have a lingering negative reaction. One of the defining features of PTSD is that those reactions linger for an irrational amount of time. Generally, feelings that last longer than 3 months, cause great distress, or disrupt work/life are considered problematic.
There are four distinct symptoms associated with PTSD:
Alcohol abuse is not a direct symptom of PTSD. However, in order to manage the direct symptoms, veterans often turn to alcohol. Imagine a vet who is haunted by memories, struggling to sleep, and anxious in his own skin. The intoxicating effects of alcohol dull those feelings (at least temporarily) and offer relief from the trauma that dominates the veteran's life.
There is a strong correlation between PTSD and substance use disorder (including both alcohol and drugs). More than 20% of veterans with PTSD also have SUD. Similarly, almost a third of veterans currently being treated for SUD also have PTSD. The veterans who have both diagnosis tend to be binge drinkers, which is the most dangerous way to abuse alcohol.
Heavy Drinking and Vets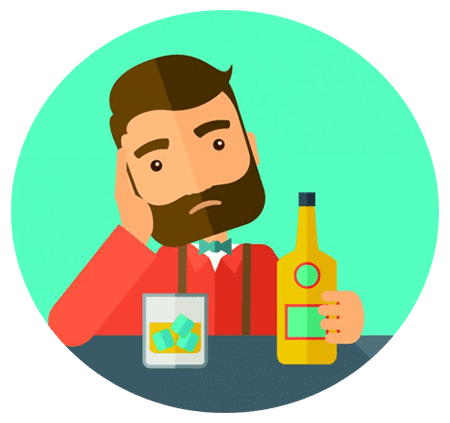 Alcohol may provide some temporary relief from PTSD, but over time it only makes the symptoms worse. And if the drinking is particularly problematic, it can become its own form of trauma and inflict even greater mental and physical scars. Here are some examples of how heavy drinking makes it harder for vets to overcome PTSD and re-enter society as positive and productive participants:
Signs of Alcohol Use Disorder in Vets
It can be difficult to define problematic drinking and to separate it from veterans who are simply blowing off some steam. Not every veteran who enjoys a night out has a problem with alcohol or PTSD. Conversely, now every vet who has alcohol use disorder suffers from pronounced symptoms.
It's important to understand that alcohol use disorder is different for everyone. More so, the tough, self-reliant culture of the military makes it hard for some vets to acknowledge they have a problem with alcohol and to seek out help. It may be up to friends and family to notice the problem and push the vet to get help. Here are some signs that could signal alcohol use disorder:
Effect of AUD on Families
A veteran may be the only one suffering from PTSD, but that does not mean he or she is the only victim. If trauma (or any other trigger) causes a veteran to begin drinking heavily, their family and friends suffer consequences as well. Trying to help a problematic drinker causes tremendous amount of turbulence in families, which, unfortunately, can also cause someone with AUD to drink more. Every family is different, but here are some common examples of how heavy drinking hurts spouses and kids as well:
Resources for Veterans with Alcohol Use Disorder
Treatment Centers with Veterans Programs
New Start Recovery Solutions
https://newstartrecoverysolutions.com/northern-california-veteran-drug-addiction-alcoholism-rehab/
This rehab facility customizes its treatment offerings to veterans suffering from AUD (alcohol use disorder). Veterans living in northern California get referrals from the Northern California VA for an addiction assessment.
Casa Palmera
https://casapalmera.com/specialty-treatment-programs/military-service/
Casa Palmera is a private substance abuse treatment facility that is Tricare-certified. This means that veterans suffering from AUD can enter this program to get the help they need, with Tricare covering the costs.
The Redpoint Center Alcohol and Drug Rehab
https://www.theredpointcenter.com/
This treatment facility offers several treatment modalities for its residents. Adventure therapy and intensive trauma therapy are also offered.
Foundry Treatment Center
https://foundrytreatmentcenter.com/
Veterans seeking help from the Foundry Treatment Center learn to live sober. They also learn how to create a new, healthy lifestyle, creating life goals.
St. Joseph's Addiction Treatment & Recovery Centers
https://www.stjoestreatment.org/help-for-a-loved-one/veterans-residential-services/
At St. Joe's, veterans with AUD work individually, in group sessions and in family sessions to address their addiction and its causes. While in residence at St. Joe's, veterans are also encouraged to explore their spirituality. In addition, veterans are encouraged to focus on vocational skills as they reintegrate into society. This facility is fortunate to have a trauma therapy dog. Hershey, the therapy dog, aids all veterans, providing emotional support.
Serenity Light Recovery
https://www.serenitylightrecovery.com/houston-addiction-treatment-programs/veteran-substance-abuse-programs/
This facility offers a Veteran Scholarship Package, providing several amenities, such as reduced rates, private suites, massage therapy, EMDR (Eye Movement Desensitization and Reprocessing), biosound and biofeedback.
Veterans Addiction Recovery Program
https://www.voamid.org/veteransaddictionrecovery
This small facility, established in 2013, targets only dually-diagnosed homeless veterans and homeless veterans. Its 10-bed facility provides veterans a place to live for 90 days as they complete treatment. Vocational training and community employment training are also offered to each vet.
Aliviane, Inc.
https://www.texvet.org/resources/aliviane-inc
This treatment facility in El Paso, Texas has been in operation since 1970. Veterans who live in El Paso or surrounding areas can request services from Aliviane; they will receive intervention, treatment, prevention and recovery support services.
El Paso Behavioral Health System-East and Northeast
https://www.texvet.org/resources/el-paso-behavioral-health-system-east
https://www.texvet.org/resources/el-paso-behavioral-health-system-northeast
The professional and clinical staff are particularly passionate about serving the military population in this part of the state. It has a designated, military-only unit, as well as a women-only unit and a military women's program. Because this program is 28 days long, veterans will receive the basics of recovery. They will also go through crisis stabilization, if they need this. Veterans can take advantage of a partial-hospitalization outpatient program. Treatment modalities include 12-step facilitation, EMDR, DPT, DBT, motivational interviewing and DBT.
PEAK Behavioral Health Services
https://www.texvet.org/resources/peak-behavioral-health-services
Located near El Paso, Texas, in Santa Teresa, New Mexico, PEAK provides inpatient services for veterans addicted to alcohol. Its Mission Recovery Program is tailored to active duty military. This program provides treatment for adults with chemical dependency and a variety of behavioral, emotional and cognitive issues. Services include family therapy, individual therapy, physical training and art therapy. All therapeutic modalities are evidence-based. PEAK boasts military veterans on staff and will consult with commanders. Work is done in partnership with military treatment facilities as well.
Warriors Heart
https://www.warriorsheart.com/alcohol-abuse/
This alcoholism treatment facility accepts veterans from all over the United States. Certified counselors who, themselves, have suffered the effects of PTSD and addiction within their families, provide counseling and support to veterans who want to enter recovery. Staff members are highly aware that alcohol masks symptoms of PTSD and leads to symptoms of depression.
Recovery Ways
https://www.recoveryways.com/veterans-with-ptsd-and-addiction/
People (including veterans) with PTSD try to self-medicate so they can get some relief from their hyper-awareness, flashbacks, nightmares, depression and anxiety. Alcohol is the most common substance used by veterans suffering from PTSD. Recovery Ways uses an integrated system of treatments to teach veterans that they can live life free of alcohol addiction. This facility provides spiritual and social activities for its residents to take part in. Each person's trauma is treated with a combination of therapy and medication. Veterans with co-occurring disorders, such as PTSD or depression receive treatment for both the disorder and their addiction.
Recovery First
https://www.recoveryfirst.org/veterans/alcoholism/
With facilities in Florida, Recovery First explains the treatment options available for veterans who have realized they are addicted to alcohol. These include a short-term inpatient facility, intensive outpatient treatment (IOP), residential/inpatient treatment, marriage and family counseling, self-help and mutual support groups, such as SMART or Alcoholics Anonymous, and facilities that provide support for specific demographic groups. Residents undergo medically supervised detox, then start to go through the assessment process. They learn what mental health issues they may have, including traumatic brain injury (TBI). Then, they begin the treatment process.
Tarzana Treatment Centers
https://www.tarzanatc.org/us-veterans-alcohol-and-drug-treatment/
This facility provides both alcohol and drug treatment, using integrated behavioral healthcare modalities that have been specialized for the unique needs of U.S. veterans. Addiction counseling and mental health support are available while the veteran is receiving treatment. Treatment facilities are located in Los Angeles, California, Orange County, Los Angeles County and Antelope Valley (in Lancaster). Other facilities are available in Northridge, Long Beach and Reseda, located in the San Fernando Valley.
Tranquil Shores
https://tranquilshores.org/specialty-services/military-rehab/
At Tranquil Shores, military veterans receive the alcohol addiction help they need. This program also treats other substance abuse issues. In Tampa, Florida, this program is located so veterans can focus on their need to recover. Because AUD develops in conjunction with depression or PTSD, treatment for co-occurring disorders is also provided.
Black Bear Lodge
https://blackbearrehab.com/ptsd/treatment-options-for-military-veterans/
Black Bear Lodge has a treatment program for veterans suffering from AUD. If the veteran also suffers from depression, PTSD or bipolar disorder they will receive treatment for their addiction and for their mental illness. Treatment options include individual counseling and group counseling. Black Bear Lodge will help veterans access their military benefits so they can begin their recovery journeys.
The Recovery Village
https://www.therecoveryvillage.com/resources/veterans/
The Recovery Village has a program especially designed for veterans suffering from mental health issues and alcohol abuse issues. Once the veteran has been examined, evaluated and detoxed, they begin their rehabilitation program. With facilities in Washington, Colorado, Florida and Ohio, veterans can find a facility that is not too far for them to travel to. Here, they will receive outpatient care, residential care, partial hospitalization, medical detox, medication-assisted treatment, treatment for co-occurring disorders (mental health issues coupled with addiction) and aftercare services.
Beachway Therapy Center
https://www.beachway.com/veteran-substance-abuse-program/
Here, veterans receive treatment customized to their unique experiences and needs. The experience staff understands the importance of the right treatment and even the right staff members to a veteran's ability to gain recovery. Staff includes doctors, nurses, psychiatrists, addiction counselors and case managers.
Rehabs
https://luxury.rehabs.com/drug-rehab/rehab-for-navy-army-or-marine-veterans/
This website provides links to treatment centers for veterans in every branch of the military—Marines, Navy, Air Force and Army. The treatment specialists know that several factors combine to create PTSD, mental health issues and alcohol abuse within the individual veteran. Working with the VA, Rehabs tries to extend help to every veteran who needs support and treatment.
Serenity Light Recovery
https://www.serenitylightrecovery.com/
This facility in Angleton, Texas provides inpatient services to veterans suffering with alcohol dependency and co-occurring mental health issues. Veterans undergo assessment and inpatient treatment, which lasts 30 to 35 days. Along with 12-Step work and counseling, psychoeducational workshops, biofeedback and brain mapping are offered. A trigger awareness program helps to prevent relapse.
Laguna Treatment Hospital, Aliso Viejo, California
https://lagunatreatment.com/
Veterans with co-occurring disorders will receive a targeted dual diagnosis treatment. The treatment plan is created with the veteran's specific needs in mind. Family members can take part in a family program. Aftercare support is also available, so the veteran doesn't relapse.
Treatment Options
Overcoming AUD is not easy, and there is no one-size-fits-all treatment. It takes time to make positive changes, and veterans often have to mix and match treatment options according to their individual needs. Luckily, there are a number of options to choose from:
Sources:
http://www.pewresearch.org/fact-tank/2017/11/10/the-changing-face-of-americas-veteran-population

https://www.ptsd.va.gov/public/problems/ptsd_substance_abuse_veterans.asp

https://www.ncadd.org/about-addiction/drugs/veterans-and-drugs

https://at-ease.dva.gov.au/veterans/recognise-signs/common-mental-health-disorders/alcohol-use-disorders