On This Page
Are You Interested
in Becoming a Substance Abuse Counselor?
For many people struggling with alcohol use disorder (AUD), alcohol counseling provides a much-needed source of guidance throughout the recovery process.
No matter the severity of your addiction, a licensed alcohol counselor can start you on your journey through sobriety, and help with any challenges you may encounter along the way. They'll offer support, strategy, and real-life solutions when you need them most.
However, not all counseling is created equal. You'll need to decide what you want to gain from your therapy sessions, and then choose a qualified mental health professional based on your goals and needs.
Let's take a look at alcohol counseling and the role it plays in addiction recovery.
What is alcohol counseling?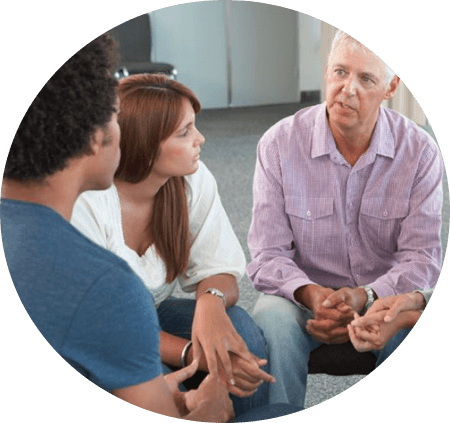 An alcohol counselor is a healthcare professional trained to help people cope with their addiction and maintain their sobriety. Through regular meetings, they can offer guidance and advice to clients struggling with AUD. How often appointments are scheduled depends greatly on each unique recovery plan, but alcohol counseling is an integral part of maintaining a sober lifestyle for many people.
It takes constant discipline and strategy to break free of AUD's grip. Alcohol counseling gives you the support and teaches you the skills you need to take back control of your life. Your counselor will steer you in the right direction through your journey, and can give you the tools to stay on the right track.
What is the role of counseling in recovery?
Regular counseling throughout your addiction recovery can serve a number of purposes, all of which are key for a healthy future.
It keeps you accountable
Accountability is a powerful motivator. Whether it's finding a buddy for gym or working with colleagues on a group project, having a person or group that holds you accountable can help keep you in line to achieve your goals.
When you regularly see a counselor, you have someone to check in with when the cravings get to be too much. They're up-to-date with your recovery journey, and they can help to define what you should expect of yourself at any point throughout.
Accountability is a way to stay honest with yourself in the face of your disease. Keeping in touch with reality can help you to gain control over your own life.
It teaches you coping skills
When the going gets tough, the tough whip out every coping tool in the arsenal.
There's no shame in struggling with your addiction, but you don't have to let it control you if you're able to stay on top of your cravings. Your counselor can teach you tricks to keep up your sleeve, and can help you to identify the right times to pull them out.
Knowing how to handle your cravings during difficult situations can be the difference between sobriety and relapse.
Offers support if you do relapse
Substance abuse relapse rates consistently hover around 50 percent. It can feel like the world is crashing down when you find yourself slipping. If you have a regular alcohol counselor, the damage from a relapse can often be kept to a minimum.
Your counselor can assess your situation and guide you through whatever next steps will be most beneficial for you. Whether you need to increase counseling appointments or spend a few weeks in inpatient rehab, your counselor will always have your sobriety and your mental health as their top priority.
Types of counseling available
When you start alcohol counseling, you'll have several types of counseling formats to choose from. Make some phone calls, chat with counselors, and see what sounds best for you.
What does an alcohol counselor do?
The role that an alcohol counselor plays in each person's recovery can differ according to each set of unique circumstances and needs. However, people that see substance abuse counselors generally do so to help them conquer their substance dependence so they can get back to living their best sober lives.
Creates a therapeutic relationship
A therapeutic relationship (also called a therapeutic alliance) is the bond of trust between a mental health professional and a client. It's essential to creating the atmosphere of openness and vulnerability that allows for deep, introspective healing.
A counselor can build and foster this connection by being attentive during appointments, remembering details, and checking in when support is most needed. Patients should feel listened to, validated, and respected by their counselors.
This bond is important in helping clients feel that their counselor has their best interests at heart when discussing future plans. This encourages AUD sufferers to break through the walls of their disease and confront the reality of its effects, knowing their counselor truly has their back through the difficult process of recovery.
Builds a recovery plan
For a person learning to live without alcohol, having a lifestyle plan clearly mapped out can help ease the unfamiliar territory of sobriety.
An alcohol counselor can help develop a plan that's right for each individual. Your personal strategy will be feasible and realistic, yet challenging. Your counselor will guide you along the right path to meet your goals, and provide support when it gets difficult. This might include daily maintenance, ongoing strategies to fight triggers, and a detailed plan in case of relapse. No recovery plan is one-size-fits-all--you and your counselor will work together to create a plan that will work for your preferences and needs.
Identifies triggers and challenges
For people dealing with AUD, it's important to self-identify potential problem areas and triggers. These situations should be avoided when possible, but in cases where confronting a trigger is necessary, you and your counselor can build a plan to handle it.
Identifying these situations ahead of time can keep you in the driver's seat when they come up, not your addiction. You'll be equipped with a plan to minimize the impact, and to fight cravings if and when they do arise.
How to choose an alcohol counselor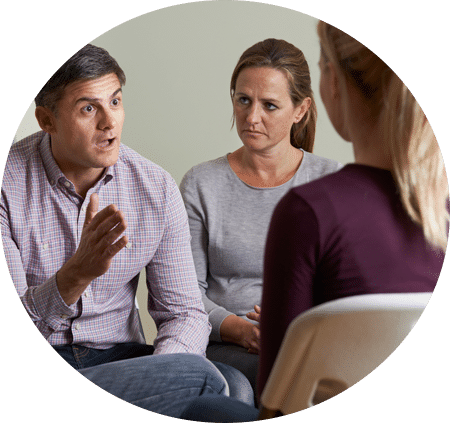 Since your alcohol counselor will be your biggest sobriety coach, you should put a great deal of consideration into choosing the person who will be supporting you through the recovery process. Here are some tips to think about when making your decision.
Benefits of alcohol counseling
For someone in recovery, the benefits of attending regular alcohol counseling can be immeasurable. Here are just a few of the upsides.
They know what you're going through

It may surprise you, but nothing about your addiction or your struggle is going to shock your alcohol counselor.

These are mental health professionals who have spent years helping people with addiction. Many substance abuse counselors are in recovery themselves. They understand the challenges that often come with maintaining long-term sobriety, and they're prepared to help. Taking advantage of their experience and training can give you the perspective and strength you need to conquer your addiction.

You'll set and meet realistic goals

Let's face it: success feels most incredible when you work hard for it.

Your counselor will help you to set realistic goals for yourself and your sobriety. They'll help you identify what you'll need to achieve them, and you'll work together to create a strategy and a reward system. Give yourself motivation to meet your goals, and celebrate when you do! It'll feel amazing, and you'll be pumped to keep going on your journey.

Learn how to live sober

When you have an alcohol addiction, your whole life tends to revolve around your next drink. Hobbies and relationships tend to fall by the wayside, and you may lose sight of the people and things you love.

An alcohol counselor will challenge you to step outside your comfort zone and figure out what the sober version of you is like. Maybe you'll take that pottery class you've always wanted to try, or get up early to greet the day with sun salutations on your yoga mat. Your counselor can help to uncover the new version of yourself, and you may find yourself loving the new you.
Get help today
Want to get help for you or a loved one but not sure where to start? Don't hesitate--help is available. Contact us today.
Sources:
https://www.drugabuse.gov/publications/drugs-brains-behavior-science-addiction/treatment-recovery

https://www.ncbi.nlm.nih.gov/pmc/articles/PMC2937091/